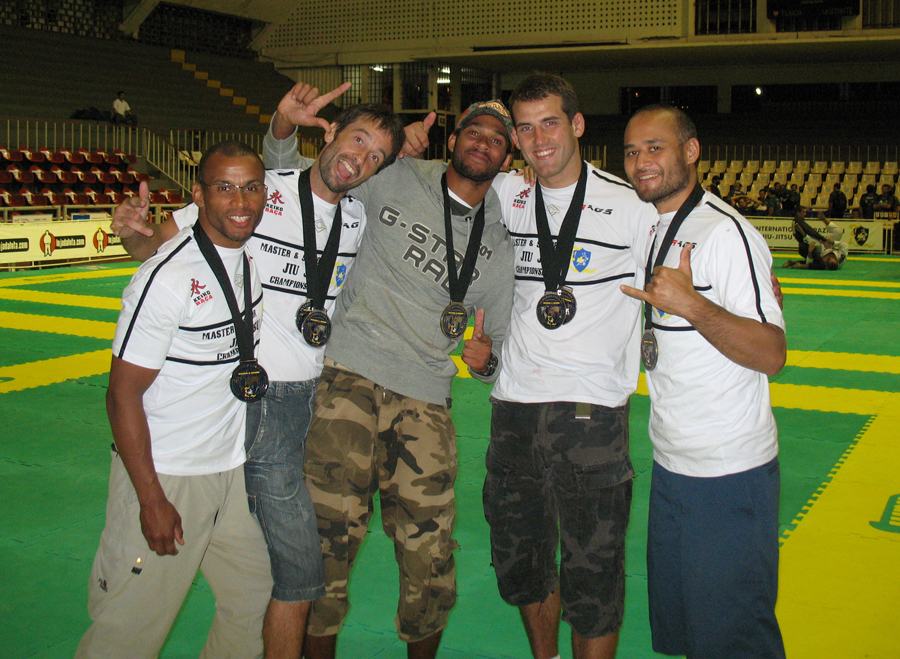 In the picture from left to right: Bobby , Rune, Nic, Joachim and me. A great day at Tijuca tenis club.
My name is Shimon Mochizuki, I'm a Brazilian Jiu JItsu Black Belt under Leo Vieira. I live and run a school in Copenhagen, Denmark. I have been training BJJ since around 2001-2002, I dont really remember when I got started.
I have been training different types of martial arts, Jiu Jutsu, Kickboxing, Taekwondo, Wing Tsun before I started training BJJ. A friend of mine from Wing Tsun got me introduced me to BJJ, he took me over to Malmø, Sweden, where Peter Blackwell has a academy, at the time there was no BJJ academies in Denmark. So we had to go over there and train once a week, and then practice the techniques for ourselfs the rest of the week in Copenhagen. This went on for about a year or less, then Peter wanted to open up a school in Copenhagen. My friend and I helped Peter to find a place where he could teach. This was the start of the first BJJ academy in Copenhagen.
When I got my purple belt, Peter had to stop teaching in the academy, and only came over once a week, this lasted awhile, until he completely pull out and I took over the responsibility of the BJJ classes. We were 4 guys that took over that academy. Around the same time I won the european open in Brazilian Jiu Jitsu, in master purple belt -88.3 kg.
Before that competition we had a great training camp, I went over to Malmø everyday for a month to train with the team. Octavio Couto (Rathinho) was in Malmø at the time to help us up for the Europeans.
In 2006 I went to Brazil for 6 months to train BJJ in Rio de Janerio and Sao Paulo with Ricardinho and Leozinho Vieira. This was a great exprerience for me and help me develope my Jitz a lot. I got to train with some of the best Jiu Jitsu players at the time. Andre Galvao, Robert Drysdale, Lucas Leite, Rodrico Cavaca, Marcel Louzado, Bob Esponja, Fin Fou and of cause Rico and Leo the two masters.
In 2008 I went back to Brazil to fight and train in Rio. I competed in the international master and senior in 82,3 kg as a brown belt, and got a bronze medal. In october the same year I got my black belt from Leo Vieira and Peter Blackwell.
In 2011 I won another bronze medal this time at the eurpeans in the open division master black belt. This is for me so far the most important medal, because now I feel that Im a real black belt. We had a great camp for that competition with Bob Esponja, who came over almost two months before to train us.
In the academy we had seminars with a lot of different people like, Leo Vieira, Rico Vieira, Robert Drysdale, Bob Esponja, Damian Maia, Rodrigo Comprido, Chico Mendes, Fernando Margarida, Peter Blackwell, Antonio Rodrigo Nogueira "Minotauro " ect.
I started this blog to share with my students and other people of the world :-), my thoughts about training.
The link to the academy http://www.mma-cph.dk